Individually Designed Living Arrangement (IDLA)
IDLA is available in Cochise County. Please contact us for availability.
Many of our Direct Service Professionals (DSP) are bilingual.
Echoing Hope Ranch (EHR) was formed by the experiences and concerns of families who were striving to ensure happy, productive lives for their adolescent and adult loved ones with autism, and other developmental disabilities.
In Hereford, at our main campus, we have many farm animals, gardens, huge trees, open green areas, swings and plenty of fresh air and space.
Echoing Hope Ranch has space for 10 full-time residents on our main campus in Hereford. In Arizona, like in many other states, persons qualified to receive state support may choose to live in a setting owned or leased by the resident (either alone or with roommates), or by their family, trust or guardian, and receive in-home support. These supported living or supported housing services go by different names in different states. In Arizona, this arrangement is called an Individually Designed Living Arrangement (IDLA). The IDLA may be a good solution for clients seeking an alternative to group homes.
"My son Cory has Autism and calls Echoing Hope Ranch (EHR) his home. Cory has a very rich life at EHR, where he has found a community of people who care for him and allow him to be who he is, without judgment. He has grown into a confident and productive young adult since being at the ranch. Now, he has friends and a roommate with whom he has a wonderful relationship. He enjoys a social life and also gets the "alone" time he craves."
— Eleanor Williams
Echoing Hope Ranch, as a Qualified Vendor for the State of Arizona Department of Developmental Disabilities, provides in-home services that are customized based on the needs of the residents in accordance with the client's Support Plan.
For onsite residents, EHR staff assists with transportation, creating weekly menus, shopping, cooking, household care, leisure and community activities, emotional and health support, personal budgeting, banking and more.
Our staff assists autistic individuals in their day-to-day activities so they may live as independently as possible. While learning to maintain their own homes, individuals are encouraged to discover new interests as they grow and change over time. Residential programs focus on all areas of an individual's life and in helping to make not just a house but also a home for each person.
---
The ranch is a peaceful, beautiful place for our participants to learn, grow and thrive.
---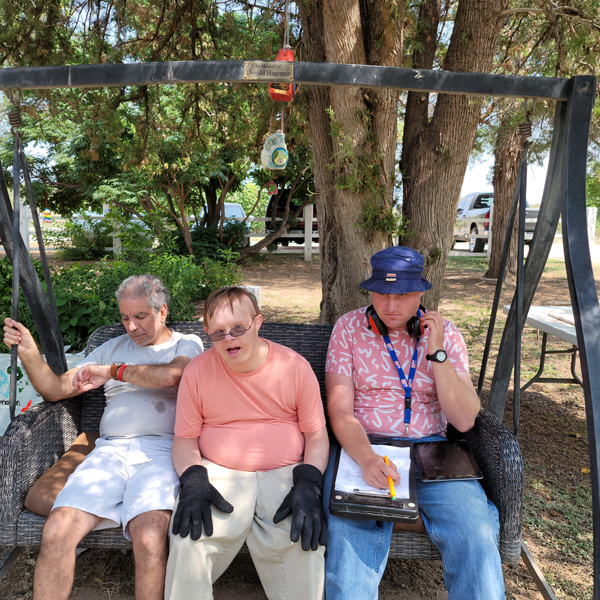 EHR also provides a Day Program onsite that is based on behavior management principles and includes positive feedback, self-esteem building, and social skills training. Depending on the needs of the individual, additional available services include training in impulse control, anger management, problem solving and conflict resolution. Through our Day Program is the opportunity for participants to connect with the community in a number of ways, including a nearby equine therapy program. Find out more here…
For those individuals who qualify, EHR operates a Group Supported Employment (GSE) Program, where the individual learns new skills and earns minimum wage (at least), by working right here at Echoing Hope Ranch. Find out more here…
If you, or someone you know, is looking for a great home with quality, compassionate support and services, please fill out the application (link below).
Application – Apply Now for Services ›
Questions? Email [email protected] or call 520-508-2087.